THE SPORTING MENTALIST SHOW
Billy Flywheel is the inimitable Sporting Mentalist who will have you wracking your brains at the outcome of some amazing happenings, in this most unique show.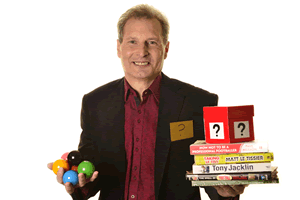 Numerous sporting greats who he has worked with on the after dinner circuit, have hailed his show performances as fantastic and sensational.
Ideal for Company Golf days, Corporate and Charity events, this is fast becoming the most talked about show on the After Dinner circuit.
Along with Billy's zany humour and jokes, the show is fully interactive with the audience, and the participants who will be involved in the routines, are chosen by the audience themselves.
Some of the mind blowing routines often included are:-
A number of sporting autobiographies will be offered to a member of the audience and they will select one of them and read a randomly selected page silently. Billy will then recite some of the interesting paragraphs from the page, without ever looking at the book.
He will amaze the audience by telling them which coloured Snooker Balls a randomly selected volunteer has placed in their Jacket and Trouser pockets whilst he is looking away.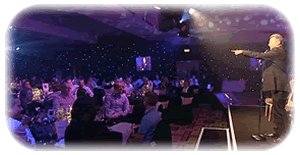 There is a moment of craziness, using a person's mobile phone with an ending that will leave everyone totally amazed.
He will ask 3 people to think of a Famous Sportsman and then using his Telepathic ESP powers, will then tell them who they are thinking of.
There is a guessing game involving hundreds of golf tees and an incredible finale to the show using a Golf Club directory that lists over 2,500 course details, where Billy will predict both the name and telephone number of a Golf Club chosen at random from the directory by an audience volunteer.
The Sporting Mentalist Show is fun, mesmerising and is completely spontaneous, and will leave everyone astounded by what they have witnessed.
To book this incredulous show, Call Billy on 07887 580390
or email billy@sportingmentalist.com