THE ULTIMATE AFTER DINNER GOLF SHOW
Widely acclaimed as one of the best on the circuit, the Ultimate After-dinner Golf Show starring Billy Flywheel is sheer wonderment and artistry.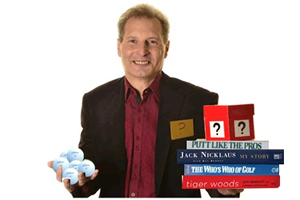 Along with Billy's zany humour, the show is fully interactive with the audience, and the participants who will be involved in the routines, are chosen at random by the audience themselves.
Some of the mind blowing routines often included are:-
Mind reading from a selection of golf books and autobiographies.
There is an 'Imaginary Tee Off' where a person signs a golf ball that disappears and goes way off course, but is found in a most unbelievable place.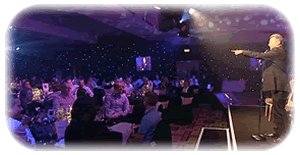 A person is asked to think of something that they might wear or take with them when playing a round of golf, and he will draw a picture on a sketch pad of what they are thinking of.
He will bring along a signed letter from a Doctor in a sealed envelope regarding a rash that he picked up on his golfing travels. When it is opened, the audience are wonderstruck at what is read out.
There is a guessing game involving hundreds of golf tees, a sensational routine using a Clubhouse Wall clock and an incredible finale to the show using a Golf Club directory that lists over 2500 course details, where Billy will predict both the name and telephone number of a Golf Club chosen at random from the directory by an audience volunteer.
Whether it be a Corporate Golf Event, Company Golf Day, Captains Dinner or a Fund raising event, the Ultimate After-dinner Golf Show is a jaw-dropping spectacle from start to finish.
All enquiries call Billy on 07887 580390
or email billy@ultimategolfshow.com
After-dinner performances at the following Golf Clubs.
Padeswood & Buckley
Ashby Decoy
Waltham Windmill
Elsham
The Hallowes
Renishaw
Forest of Arden
Heysham
Carholme
Pontefract & District
Trentham Park
Withernsea
Old Links
Curzdon Park
Coxmore
Breadsall Priory
Tapton
Waterton Park
Newark
Chilwell Manor
Astbury
North Cliff
Corby
Vale Royal Abbey
Cleethorpes
Blackley
Selby
Immingham
Stanton on the Wolds
Hessle
Wakefield
Whittington Heath
Flixton
Cosby
Kenwick Park
Dunstable Downs
Aston Wood
Horsley Lodge
Disley
Lancaster
Chesterfield
West Bradford
Cookridge Hall
Bromborough
Druids Heath
Fishwick Hall
Beamish
Bramall Park
Mickleover
Romiley
Preston
Birstall
St. Neots
Bridlington
Chevin
St. Annes Old Links
Frodsham Golf Club
Knott End
Kenilworth
Cotswold Edge
Keighley
Kingsthorpe
Grimsby
Ripon City
Bishop Auckland
Scaptoft Valley
Landsdown
Greenmount
Calcot Park
Cotswold Hills
Birstall
Gloucestershire County Dinner
Derbyshire Area
South Yorkshire County Dinner
Kedleston Park
Sicklehome
Burford
Tankersley Park
Greetham Valley
Wychwood Park
Beeston Fields
Sitwell Park
North Manchester
Turton
Walsall
Radcliffe on Trent
Marlborough
Ingestre Park
Moor Hall
Staffordshire County Dinner
Leicestershire & Rutland County Dinner
Beau Desert Golf Club
Shropshire & Herefordshire County Dinner
Otley
Bradley Hall
Mere
Bury St Edmunds
Cleckheaton
Northamptonshire County Dinner
Kings Lynn
Wollaton Park
Nottinghamshire County Dinner